Pam Weber & Elizabeth Gist Weber Gist Team
Executive Broker/Realtor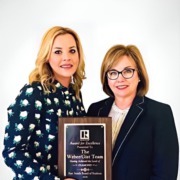 Pam Weber is an Executive Broker, partnering with her daughter, Elizabeth Gist. Pam graduated from Fort Smith Public Schools and attended the University of Arkansas. She loves to garden, read, and is a lifetime member of the Multimillion Dollar Club.
Pam has been involved in real estate since 1979. Her favorite aspects of real estate include her love for homes and connecting with others. 
Elizabeth is a graduate of Southside High School & then the University of Arkansas.  Elizabeth graduated from Univeristy of Arkansas with a Bachelors Degree in Communication Marketing.  Elizabeth is also a seasoned Realtor of 14 years. She is married to Jeff Gist, has two children who attend Immaculate Conception Elementary School and loves to volunteer her time in the community and play tennis.
Pam & Liz are from a family of Realtors and real estate has been embedded in them with an extensive knowledge and experience of all aspects of the real estate market. you chose them to represent you on a property transaction you do not have to worry about lack of knowledge to represent you.  Call Pam at 479-651-2167 or Elizabeth at 479-461-0666 to help you today!