The Cluck Graham Team
Realtors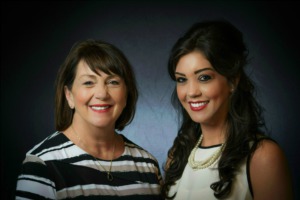 Meet Realtors Janet Cluck & Megan Graham! 
Bradford & Udouj Realtor's Cluck-Graham Team, a mother-daughter duo, came new to Real Estate in the Spring of 2016 and hit the ground running. In their first full year of selling, 2017, Janet Cluck and Megan Graham earned the Platinum Level Award requiring a minimum of $5 million in sales and the team continues to earn Multi-Million Dollar Producer Awards of Excellence each year. 
Both Janet and Megan are natives of Van Buren and know the River Valley areas well.  Janet owned and operated her family business C&C Catfish in Van Buren for sixteen years where Megan grew up working as well. They both thoroughly enjoyed visiting with and serving the community in the food industry and made many lifelong friends through the business. Megan earned a Bachelors Degree in Education from the University of Arkansas Fort Smith. Sticking together, the mother-daughter duo decided to go to work in the Real Estate world. They work hard to meet their clients needs whether buying or selling.
Both Janet & Megan love their new career and said, "Without our loyal clients and referrals from friends and family, we could not do it. You are how we are able to make a living and for that we thank you!"
Ready to buy? Let the Cluck-Graham Team narrow your search and take the hassle of home buying away with personalized daily updates of the latest listings! Ready to sell? No problem! They will professionally market your home with paid for professional photography and drone shots to help get top dollar sales!  No matter what, The Cluck-Graham Team is ready to work for you!
Janet & Megan are both members of The Local, State, & National Associations of Realtors as well as The Multiple Listing Service. Both team members reside in Van Buren with their family and worship with their extended family of faith as members of First Baptist Church Van Buren.