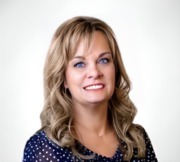 For over 12 years, it has been Amy's privilege to work as a Realtor in her home town of Fort Smith, AR. Amy's goal is to provide excellent service to both buyers and sellers in order to help them see their dreams come true. Focusing on building and maintaining relationships with her clients so that she earns their trust, referrals and repeat business.
I Amy has been married to husband, Greg, for more than 25 years. They have two amazing children, Brett and Ashlyn and three furry, four-legged children: Callie, Bruce and Sam. Greg works in healthcare and their family attends Community Bible Church in Fort Smith. Amy, along with her family, LOVE to travel (especially to the beach) and she plays a lot of tennis!
Amy would like to be your life time Realtor!